The Acu-Rite Wireless Weather Station
The Acu-Rite Weather Station is aimed at the novice weather station owner. Just how well does it fulfil that role?
Home Weather Stations come in all shapes and sizes, range from analog to digital, wired to wireless, and from very affordable to frighteningly expensive. To many people, they may seem like yet another nine day wonder - just the latest piece of gadgetry that everyone must have. To others, they have become an essential part of their homes and lives, and have opened up a whole new range of possibilities in the great outdoors.
All of us have some interest in the weather, varying from a grand passion to a need to know what to wear, or an easy way to start (or avoid) a conversation. But for those of us who want to know more, or have entered a stage in our education where we are developing interests in the outside world, an introductory weather station is a great starting point. One that will encourage and reward our interest, but is not too highly priced to cause too much grief if it is consigned to the "Lost Interest In This" cupboard.
There are two ways to get started in weather observation without overspending - a basic indoor-outdoor temperature station, possibly including humidity data and basic weather forecasting, or a comprehensive weather center collecting temperature, humidity, wind and rain data from outside and transmitting it to an indoor receiver, which may also act as a barometer.
Most weather station manufacturers, including La Crosse, Oregon and Chaney, who make the Acu-Rite range, produce basic temperature stations at a low price, while Thermor and Acu-Rite also manufacture low cost, entry level fully functional weather stations. So let's look at Acu-Rite's top of the range, 00594 Wireless Weather Station with Wind Speed and Direction, Wind Chill, and Heat Index.
The Acu-Rite 00594 Wireless Weather Station
I must admit I was rather sceptical of the Acu-Rite range of weather products - low priced, and available from numerous outlets including chains like Walmart. Are they toys, or are they genuine weather monitoring instruments?
They are manufactured by the well established Chaney Instruments, probably better known for clocks, so that is a positive point. They also come with a one year guarantee, which is reassuring. And the internet is not alive with complaints about them from disappointed customers, so perhaps they should be considered seriously.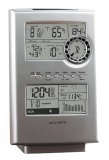 And there is quite a lot to like about the Acu-Rite range, including some innovative and useful features. But let's confine our attention to the 00594 Wireless Weather Station.
Firstly, it is not a fully functional home weather station - it lacks a rain gauge. But there is a way around this, as you'll see later. And secondly, you won't be able to link it to your computer, so if you want a weather history for your home or office, you'll have to find other ways of recording the information. Both of these deficiencies are acceptable in an introductory instrument at an introductory price.
So what does the 00594 have?
Just about everything else you need or want in a basic weather station, plus a few useful extras, that make it quite comparable to some of the weather stations in the higher price bracket.
The indoor receiver/display unit is a good size, clear and easy to read, and can be desk or wall mounted. It is very well designed, and displays a large amount of infromation at all times.
The upper half of the LCD panel shows outdoor temperature and humidity with indoor temperature and humidity displayed lower down. Average wind speed is shown, alongside trend arrows (rising, falling, or steady) for outdoor temperature and humidity and for wind speed. The wind direction compass shows the current wind direction and, in the center, the highest gust speed over the last 1-minute period - a welcome, interesting and useful figure. Above the compass is a display in which you can toggle between wind chill, heat index, and dew point.
The lower part of the display is divided into two parts. On the left are the time, day and date displays (time is set from the Atomic Clock) including an alarm and snooze function. Below are the phases of the moon.
The lower right includes the remaining weather information - the forecast icons - sunny, partly sunny, cloudy or rainy (snowy if the temperature is below freezing), air pressure and air pressure trends for selectable periods. You can set your altitude for greater accuracy early in the station set up phase - the manufacturers allow a range from -100 to 2500 meters, or -330 to 8250 feet. Readings may be a bit suspect if you live at an elevation above 3500 feet, unless the software is more sophisticated than expected in an inexpensive instrument.
Acu-Rite provide an impressive range of options for time, display and alarm functions - Fahrenheit or Centigrade, inches or millibars, knots, mph or kph, plus other very useful options such as the length of time you want to calculate average wind speed.
Alarms can be selected and set for any of the measured variables, plus calculated values such as wind chill, heat index and dew point, mostly as both high and low values. A storm alarm is also included. Minimum and maximum values are also recorded where appropriate, meaning that the range of information is equal or better than many more expensive weather stations.
There are two outdoor sensors. A temperature/humidity sensor also acts as the receiver for the Atomic Clock signal, and two more of these can be added for extra temperature information from either indoors or outdoors. This has no shielding so it should be installed in the shade and away from reflected light and heat. The anemometer needs a more open position, and the direction arrow must be first set up to face north. Transmission range is on the low end, at 100 feet. This should be reduced by 20 feet or so for every wall the signal must pass through on its way to the receiver - more if your house has metal cladding.
Both sensors and the receiver run on AA batteries - lithium batteries are recommended for the outdoor units if cold winters are expected, and this is reflected in the specifications;
Specifications:
Indoor temperature measuring range: +32°F to +122°F (0°C to +50°C)
Outdoor temperature measuring range: -4°F to +122°F (-20°C to +50°C) with alkaline batteries -25°F to +158°F (-32°C to +70°C) with lithium batteries
Temperature resolution: 0.1°F/C
So overall this looks to be a good introductory home weather station which won't cost the earth (recommended retail is $134.95 but prices around $90.00 are not hard to find - try Acu-Rite Weather Stations
at Amazon), with a number of very useful features usually found in much more expensive equipment. With a bit of preventative and regular maintenance as outlined in the Setting Up pages, it should outlast the guarantee. And if you find home weather stations suit you, you can always upgrade later.
The Lack Of A Rain Gauge
A weather station without a rain gauge is a bit like a car without air conditioning - you can get by OK, but it sure is useful when you need it.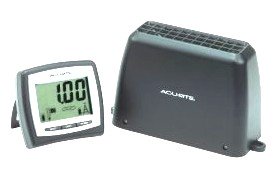 In this case Acu-Rite offers a well priced stand alone rain gauge, the 00896 Wireless Digital Rain Gauge. With the same transmitting range, it can be set up in a convenient position and the receiver can be placed beside the main weather station display unit.
The 00896 is a conventional tipper unit which measures rain in lots of 0.02 inches or 0.05 mm, which is very acceptable. Again AA batteries are the power source, but the rain gauge whould be brought inside once the temperatures begin to drop below freezing. The receiver can be set to indicate no, light or heavy rain, and alarms can be set to sound when conditions change.
The 00896 Rain Gauge officially retails for $44.95, but you should be able to find it for less than $30.00. The Acu-Rite Wireless Rain Gauge
can also be found at Amazon.
So adding the Rain Gauge to the 00594 Weather Station should give you a keenly priced complete weather station for less than $120.00. Give it a try - if you find it useful and/or interesting, there are plenty of better stations to move up to later on, particularly those which can be linked to a computer and add another dimension to weather watching. And from there, who knows how far you can go.
There are many more brands of weather station available, most offering a little more than the Acu-Rite model, and you can find out more about them Here, and by following the links on that page. Back to the Top, or return to the Home page.


ADD TO YOUR SOCIAL BOOKMARKS:

Blink

Del.icio.us

Digg

Furl

Google

Simpy

Spurl

Technorati

Y! MyWeb
Click Here For Your Free 20 Page Report on Solving
the Most Common Weather Station Problems
Home Weather Stations on eBay
Every one of these Home Weather Stations is available from eBay - right here and right now!
These listings are the best and easiest way to find Home Weather Stations and related articles from eBay. All Weather Stations in the following lists are available right now. See something you like? Then move fast and place your bid. If not, bookmark this page or the Home Weather Station Auction Index, because if what you're after isn't here now, it almost certainly will be later.
When you click on a link below you will be taken straight to an eBay page showing that item. All items will open in a new window, making it super easy for you to check any Home Weather Station that interests you.
I hope you find exactly what you need, at a super price.
* all articles on auction courtesy of Ebay.
** links open a new window at Ebay with product details.


.
Last update 05/26/2011