La Crosse Weather Stations - A Complete Range from Basic to Professional
But how do La Crosse Weather Stations compare with other brands, and which is your best choice?
The first part of the question is easily answered - La Crosse Technology specializes in the design and manufacture of home weather stations, and are among the leaders in wireless weather station technology. Based in Minnesota (not a bad place for weather watchers), they have several international branches, and are supported by numerous retailers.
They have an excellent record of improving and adding new features to their weather station catalog - in fact over the last two years they have replaced their entire range, with major improvements in signal transmission and update speed, and, judging by customer's comments, they have also improved the reliability of their sensors.
The other good news is that competition has led to many price reductions in recent years,and it is now possible to obtain a very good, fully functional La Crosse home weatherstation for around the $200.00 mark, or even less if you hunt around.
But one word of caution. If you want a fully featured reliable home weather station, the standard has been set by the Davis Vantage Pro2, maybe to be replaced by the recently released Vantage Vue . Both are more robust than its main competitors' products, and incorporate many more features. There is little doubt thatthe Vantage Pro2 or Vantage Vue are the home weather stations to aim for. There is one major downside - the cost. But the Vantage Vue, a stripped down version of the Vantage Pro2, is available at prices not too far away from competing models such as those produced by La Crosse. So in the words of a meteorologist who reviewed one of the La Crosse home weather stations, aim for a Davis Vantage Pro2 (or Vantage Vue), but until your budget allows it, be prepared to be very happy with one of La Crosse Technology's models.
Let's see just what La Crosse has to offer.
First up, La Crosse Weather Stations include a strong range of attractively designed display unit/receivers, most of which can be wall or desk mounted. They are matched by reliable outdoor sensors, particularly if they are well looked after.
Like their main competitor, Oregon Scientific, La Crosse have many attractive packages aimed squarely at people considering their first home weather station. Their range is large, but it is not always easy to find a model with every desirable feature. Don't let this put you off, because not everyone will require the full suite of features in their ideal home weather station.
La Crosse's website is very strong on information and illustrations of receivers and sensors, so you should be able to find out everything you need to know. All weather stations are backed by comprehensive manuals, although some are clearer than others. Still, most problems will be avoided by careful reading of the manual before and during installation.
Visit the La Crosse Weather Stations website to find out more.
Bear in mind that the prices you will see there, and those mentioned below, are the manufacturer's suggestions*. I have seen discounts of 33%, even 50%, at some online stores, and you will find links to many of these later in this article. You might also consider checking out La Crosse Weather Stations on eBay, where new current models can usually be found. You can find out what's currently available near the bottom of this page. If you were to follow some of these links and buy one of the products shown there, I may earn a small commission on the sale.
The range of La Crosse Weather Stations can be divided into four groups, grading from basic to comprehensive. Only the final group provide the full range of sensors.
1. Basic Temperature Stations
These attractively designed, relatively simple units consist of one or more sensors which transmit temperature data to an inside receiver/console. Most of these have a radio range of 330 feet (100m), although there are some older models with ranges of only 80 feet (24m), which reduces by about 30 (9m) feet for every wall the signal has to pass through. For a bit extra, you can add one or two extra sensors to many of these units and keep an eye on the baby's room, cellar or greenhouse.
These attractively designed, relatively simple units consist of one or more sensors which transmit temperature data to an inside receiver/console. Most of these have a radio range of 330 feet (100m), although there are some older models with ranges of only 80 feet (24m), which reduces by about 30 (9m) feet for every wall the signal has to pass through. For a bit extra, you can add one or two extra sensors to many of these units and keep an eye on the baby's room, cellar or greenhouse.
The best of these is probably the WS-9080U-IT
, which doubles as a clock/ calendar, kept on time by daily connections to the Atomic Clock at Fort Collins, Colorado. It's transmission range is 330 ft (100m), it records maximum and minimum indoor and outdoor temperatures, and the battery life is 12 months, maybe more for the sensors. It's current recommended price is $34.95,but you should be able to find it cheaper. Up to 2 extra sensors can be attached at a small extra cost.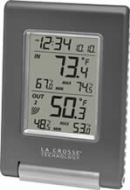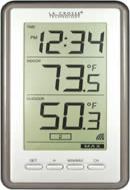 WS-9080U-IT (left) & WS-9160U-IT

The only disadvantage of the WS-9080U-IT is that the minimum indoor temperature is 32°F (0°C), whereas outdoors the sensor will record temperatures as low as -40°F or C. Maximum temperatures to 140°F indoors and 160°F outdoors (60 & 70°C) should cover all eventualities.
Alternatives are the WS-9160U-IT
and the highly regarded WS-9121U-IT
, both of which will record indoor temperatures as low as 14°F (-10°C), while the maximum recordable temperature outdoors is 140°F or 60°C. Neither of these are connectible to the atomic clock and show only outside minimum and maximum temperatures. Both these retail below $30.00





2. Temperature/Humidity Stations
These are very similar to the group above, but a combined outside temperature- humidity sensor replaces a temperature recorder.
There is a choice of three models, all of which have similar transmission ranges (330 ft or 100m), battery lives of up to 2 years, and record maximum and minimum data for inside and outside temperatures and outside humidity when available. All are capable of handling two extra sensors, and the reliable WS-9029U-IT
is available with a probe which could provide pool or soil temperature information. This model only provides indoor humidity information.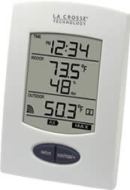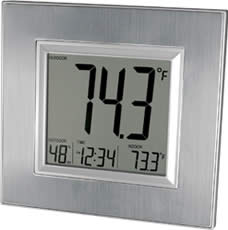 WS-9029U-IT (left), WS-8300U-IT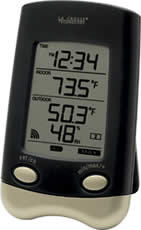 The WS-8300U-IT
and WS-9023U-IT
are basically identical in features and performance, and differ from the WS-9029U-IT in providing outdoor humidity, including maximum and minimum values. The 8300 would make an attractive wall mounted display, but the well designed and cheaper WS-9023U-IT looks the better buy.


3. Wireless Forecast Stations
Add a digital barometer to the mix and weather forecasting becomes possible, at least in a basic way. This group of instruments forecasts the weather in terms of three forecast icons - sunny, sunny with clouds, and rain with clouds, and an estimate of whether the weather is likely to improve or get worse based on air pressure changes.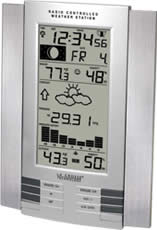 Apart from the WS-450
which is an animated color forecaster, these forecast stations have an increasing number of features corresponding to their price. Only the WS-450B
and the WS-8035U-IT-SAL monitor outside humidity, while the WS-9133-IT does not monitor humidity at all.
Overall the WS-8035U-IT-SAL
is the best of this group, providing meaningful information witha good timekeeping function. Whether it represents good value in comparison to La Crosse's Professional Weather Centers is hard to decide. You will be missing out on rain and winddata, but you can set it up quickly and have reasonably reliable forecasts available in your home.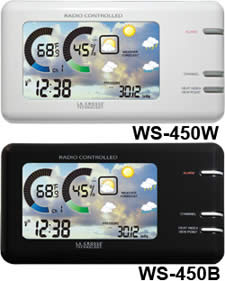 The WS-450 Color Forecaster is a different style of instrument. Although not suitable for very cold areas, with it's rather high minimum temperature record of 4°F (-15°C) it holds its own as a forecaster and has the added features of minimum and maximum heat index and dew point, both important aspects of the weather which are not available on the other forecast stations. With its innovative graphics, color and choice of black or white cases, the WS-450W
would make an ideal introductory weather station for an interested child.


4. Wireless Forecast Stations With Extras
These generally more expensive models are no better at recording and displaying temperature, humidity and air pressure than those described above, and will not provide a more accurate forecast. But with several appealing features, they bridge the gap between weather stations, clocks and useful gifts.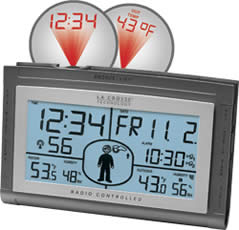 That may be a bit unfair - they do provide more variety in forecast options than the bare bones Forecast Stations, but the predictions are based on the same raw data. Most of them are accurate timepieces, being linked to the Atomic Clock, and most of them display an icon whose state of dress is a guide to what to wear outside. The young dude is known as Oscar Outlook. The attractive young lady doesn't appear to have a name - maybe Windy Wendy?
Most of these members of the Weather Plus range retail at the $30 - $50 mark. A little more expensive is the WS-9520U
Wireless Projection Forecast Station, which can project the time and current outside temperature on your bedroom wall. Quite a popular model, with many favorable reviews.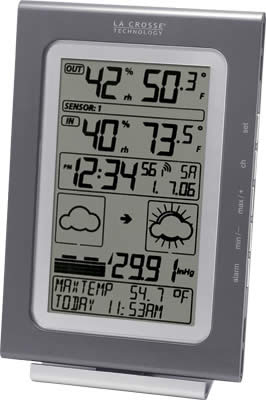 The top of the range is the WS-9020U-IT
Intelligent Forecast Station, with a suggested price of $119.95. It has an added predictive function and will in theory warn you of a range of adverse weather events from snow and frost to thunderstorms. It has a built in temperature alarm, and is capable of predicting night time low temperatures. Quite a neat concept, but just possibility pushing forecasting formulae to their limits or beyond.



Click Here For Your Free 20 Page Report on Solving
the Most Common Weather Station Problems
4. Professional Weather Stations
La Crosse's range of top line weather stations has also undergone a complete upgrade over the last couple of years, and the upgrades continue. Not only have data transmission, sensor reliability and computer compatibility all improved, but the price has dropped. While not yet to the standard of the Davis Vantage Pro2, the La Crosse range now provides reasonably affordable, complete weather stations which should provide years of trouble free operation.
La Crosse currently manufactures two types of weather center, ranging across 5 models.
The old WS-2316U and WS-2317U have been withdrawn. They were relatively inexpensive, computer compatible fully functional weather stations which you may still be able to find at even lower prices. But time moves on. They have been replaced by the WS-2810U-IT
and the even more recent WS-2811U-IT, which are in many ways better instruments.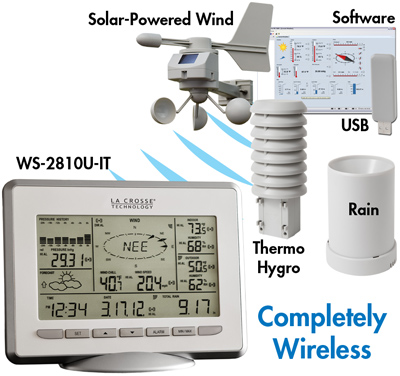 These fully functional home weather stations appear identical in everything but the design of the console/receiver, and they introduce something new to home weather station design. The sensors are completely wireless, and can be separated such that each of the wind, rain and temperature/humidity sensors can be placed in the best position to record true weather details. This is because the rain and wind sensors send their signals back to the thermo-hygro unit, which then sends all the data back to the indoor receiver.
Another innovation is the wireless USB which means that your computer and the receiver don't need to be in the same room, attached by a cable. There is also the option of storing up to 1750 sets of data, at intervals selected by you.
The flexibility in setting up the sensors puts the WS-2810U-IT and the WS-2811U-IT ahead of their main competitors, including the Davis Vantage Pro2 and Vantage Vue in this regard, and a delivered price in the low US$200s is also attractive. But as has happened in the past, issues of reliability and customer service have already become apparent. La Crosse and other manufacturers have some difficulty in producing robust products, which wouldn't be so much of a problem if their customer service was a bit stronger.
These appear to be much better weather stations than any La Crosse has produced before, and are well priced. But they were only released late in 2009, and it might be best to hold off for a while and keep your eye on customer reviews. It is also likely that the price may drop further as more retailers obtain stock.
Three other "Professional Weather Centers" are a little cheaper, but have fewer features and lack computer connectivity. They are the WS-1516U-IT
, WS-1510U-IT
, and the WS-1612-AL-IT
WS-1612-AL-IT
or WSI612CH-IT. The latter does not record inside temperature and humidity, will save 200 sets of records as compared to 140 for the other two, and has other minor differences, apart from different console cases.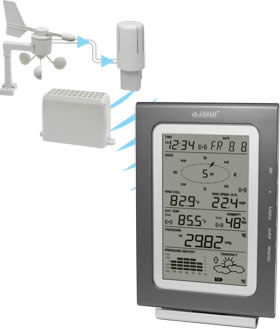 The WS-1516U-IT and WS-1510U-IT are both fully functional weather stations with a wide range of displays including high and low temperature alarms, a wind speed alarm and a storm warning facility. They look to be a perfectly adequate home weather station, and are well priced at $159.95, often discounted to around $125.00. But, if you check available prices, you should be able to find the much better WS-2316U and WS-2317U for only a few dollars more.


Summing Up
La Crosse Weather Stations provide the biggest range of temperature and weather stations of all manufacturers. Depending on your location and set up options, you may well find exactly what you are looking for in the La Crosse range, and if you do you are unlikely to be disappointed.
One small word of caution - home weather stations are complex instruments and they take a while to set up. La Crosse has a full set of manuals and they are mostly well put together and easy to understand and follow. A little patience and study at the beginning will save a lot of time in the long run.
Despite all the above, there are other very good home weather stations out there, and you may find something more suitable to your requirements and budget in the ranges from Oregon Scientific , Davis Instruments. , and several others. They are definitely worth checking before you make your final decision.
Would I buy one of the La Crosse Weather Stations? Yes, I would, on the understanding that they are neither toys nor robust commercial systems. They are strong competitors in the market, and include several models which offer very good value, particularly to the first time owner or where funds are limited.
And no matter what home weather station you buy or own, its performance is only as good as the way it is set up.
The article on Setting Up. will help you identify just what your system will need to work around your home. You will also find that a little extra work at the beginning in weatherproofing moving parts, battery compartments and cable connections will pay off big time in minimising or preventing problems in data transmission. The article on Troubleshooting will help solve most problems (but if allelse fails there's always the manual!).
Whatever your choice, you will have entered the exciting world of weather observation and recording.
Good Luck
Back to the Top, or return to the Home page.


Click Here For Your Free 20 Page Report on Solving
the Most Common Weather Station Problems
La Crosse Home Weather Stations on eBay and Amazon
Every one of these La Crosse Home Weather Stations is available from eBay - right here and right now! Of course you will have to wait out an auction or two to get a good price, but if you don't want the uncertainty why not check out La Crosse Weather Stations
at Amazon. Many online and street front retailers sell new, fully guaranteed La Crosse products through one or both of these outlets, so the risk is minimal.
The following listings are the best and easiest way to find La Crosse Home Weather Stations and related articles from eBay.The products you see are real time listings at ebay USA See something you like? Then move fast and place your bid. If not, bookmark this page, because if what you're after isn't here now, it almost certainly will be later.
When you click on a link below you will be taken straight to an eBay page showing that item. All items will open in a new window, making it super easy for you to check any La Crosse Home Weather Station that interests you.
I hope you find exactly what you need, at a super price.
* all articles on auction courtesy of Ebay.
** links open a new window at Ebay with product details.
ADD TO YOUR SOCIAL BOOKMARKS:

Blink

Del.icio.us

Digg

Furl

Google

Simpy

Spurl

Technorati

Y! MyWeb
*
Product links and pricing
.
The products I mention are, in my opinion, the best of the range in each category. But this doesn't mean they are just what you are looking for, and it is always worth following the link to the manufacturer's page.
But don't buy from there - in almost all cases much better prices are available from both shopfront and internet based retailers. At all times eBay and Amazon are worth checking out, and you will notice many of the links go to Amazon. Amazon has built a very sound reputation for customer service, given the huge amount of business that passes through their website, and many products are accompanied by clear descriptions, alternatives, and reviews from customers. These can be very helpful, and I shop at Amazon myself.
But prices can change very quickly there, so if you have made up your mind on a product and you see a good price there, grab it before it goes.
Where possible, I provide links to other retailers where their prices are competitive. Some may be better than they seem if the prices include delivery and, where needed, batteries - check the terms they offer.
Finally, I stand to make small commissions on some of the products I recommend. A lot of work goes into building and maintaining a site like this, and I am not ashamed if I recoup some of the costs, and even make a little money on top.
That being said, I will and do recommend sellers where I will not make anything for myself. One of these is Ambient Weather , a useful retail site with good supporting information. But if you visit there, don't forget to come back!
.
Last update 12/05/2011