Can the Ultimeter Survive in a Wireless Weather Station World?
For many years, Ultimeter Weather Stations were among the most popular in the home weather station market. But the arrival ofother manufacturers, often offering a wide variety of weatherand temperature stations and backed by strong marketingcampaigns, had a serious effect on Ultimeter sales
Three Ultimeter Weather Stations are now produced by Peet Brothers, and, compared to other home weather station manufacturers, they provide a somewhat different solution to recording weather information from around the home.
The flagship model is the Ultimeter 2100 . Like all Ultimeter models, it consists of a series of sensors connected by cable to a keyboard/display unit purpose designed for the system.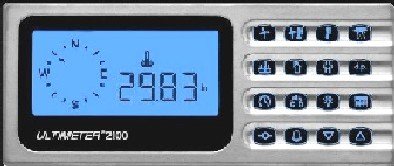 On the keyboard are a group of icons which can call up present, minimum and maximum values for a variety of weather data. Values for today, yesterday, and one other selected interval can all be displayed and saved.
The display unit includes ports for communication to external locations by modem or radio, as well as simultaneous connection to a computer or data logger - Weather Outlook is recommended by the manufacturers.
A wide variety of alarms can be set, and the system includes static electricity discharge facilities for all external sensors, plus a grounded AC adapter, providing good protection for all the equipment.
So the Ultimeter 2100 has a number of useful features which set it aside from its competitors, and the recommended price of $399.00 is also competitive. There is not a lot of competition on price, and best outlets are the manufacturer Peet Brothers and Binoculars.com. .
You may find that you will have to pay extra for additional sensors to bring this unit up to the level you want. In this case, neither rainfall or outdoor humidity sensors are included, and you would need to add on $90.00 and $110.00 respectively to bring the Ultimeter 2100 up to the standard of a comprehensive weather station. The total price would rise to $599.00
One nice touch, though, is the inclusion of a rain rate, or flash flood alarm.
So all in all, quite a nice package which, fully optioned, is certainly comparable to the better weather stations from Davis, La Crosse and Oregon . On the negative side, the Ultimeter 2100 is cable only, and while a properly set up cable unit is less likely to suffer from transmission interference than a wireless weather station, the greater flexibility of a wireless unit may appeal to you more.
So in it's standard form, the Ultimeter will provide indoor and outdoor temperature, wind speed and direction, and air pressure.
If you only require temperature and wind information, perhaps to monitor conditions in your garden, then the Ultimeter 800 may be suitable. Excluding the barometer brings its price down to $279.00. And if inside temperature is also not a concern, The Ultimeter 100 at $199.00 may be just what you need.
Overall then, the Ultimeter series presents a good, if slightly different solution to the gathering of weather information, if you are not set on wireless communication.
Here's where to go for more information on Home Weather Stations , and how to set them up. Back to the Top, or return to the Home page.


Click Here For Your Free 20 Page Report on Solving
the Most Common Weather Station Problems
ADD TO YOUR SOCIAL BOOKMARKS:

Blink

Del.icio.us

Digg

Furl

Google

Simpy

Spurl

Technorati

Y! MyWeb
.
Last update 12/85/2011