Facts About Maximum Barometers
Maximum Weather Instruments make two fine barometers - the Predictor and the Proteus. Both are enclosed in a high quality, 7" (17.75cm) lacquered brass case, although chrome or nickel plated models are available at extra cost. The case is 3.5" (9cm) deep, and the dial is a generous 5" (12.5cm) in diameter. Both have cutaway dials, which show the high quality French or German movements. A five year warranty applies to materials and workmanship.
Both are available in 11 elevation ranges, from sea level to 11,001 ft+ (over 3350m). This is an excellent option which I haven't seen elsewhere in this price range, and ensures accurate data over elevations where the relationship between air pressure and altitude is quite complex.
Wall or mantel mounts are available in oak or mahogany at a small extra cost, and enhance the overall appearance greatly.
The Maximum Predictor Barometer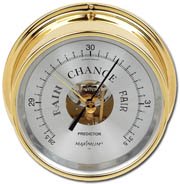 The Predictor is the cheaper of the two, with a recommended retail price of $195.00. It is a basic design, without temperature compensation, which would be fine for home use. The dial is graduated in inches of mercury only, over a range of 28.5 to 31.5", and readings are guaranteed accurate to 0.16"Hg. It is unfortunate that metric pressure equivalents (millibars) are not shown on the dial.
The Maximum Proteus Barometer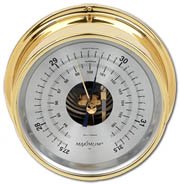 Proteus is a more sophisticated instrument, with a different movement and is temperature compensated. These features combine to give it an accuracy of 0.08" Hg. It is also available with a black or silver dial, so with the options on the finish of the case and the mount, there is quite a lot to choose from. The range is 4 inches of Mercury, from 27.5 to 31.5 inches, and the dial shows both inches and kilopascals.
This seems to me an odd choice - the convention used by meteorologists is hectopascals or millibars - same thing in practise, but I guess it's not too difficult to multiply by 10.
The Proteus is an attractive barometer, particularly with a mahogany mantel mount, and its recommended price is $395.00, or $455.00 for a chrome or nickel finish.
Where To Find Maximum Barometers
You can buy either of these direct from Maximum, but you'll get a better price with no sacrifice in support or warranty from The Outerbanks Weather Company.
Maximum's 5 year warranty applies to all their products, most of which are cabled or wireless components of full weather stations, so while it is on the low side for a barometer, it is an excellent guarantee for electronic products with some exposure to outdoor conditions. For that reason, I'm not too concerned, particularly when the workmanship and quality of the instruments is recognized.
More About Barometers
For more information on barometers, visit the pages on Buying a Barometer, the Aneroid Barometer, and Setting A Barometer. You'll find links there to other pages there which may interest you.
And just in case you were wondering, here is a page on How To Use A Barometer. It's not as easy as you might think to use a home barometer for weather forecasting
Back to the Top, or return to the Home page.


Click Here For Your Free 20 Page Report on Solving
the Most Common Weather Station Problems
Buying Barometers on eBay
Although it's rare to find Maximum Barometers there, eBay is a good place to see lots of barometers in one place - new, used and antique. Even if you aren't in a buying mood, the list below shows you what's on sale at this very minute. eBay can also be a great way to learn about specific items and barometers in general.





.
Last update 05/25/2011