Weems & Plath Barometers
Weems & Plath are a US firm with a long record of manufacturing quality barometers and other instruments and products for marine users. Their large range includes many aneroid barometers, many designed for use on boats and in ports.
Here is a small selection from the middle and upper part of their range. If you don't see something you like here, you can view their full range at the
Weems & Plath
website. They are not retailers, but a large number of on and offline stores carry their product, among them and Amazon.
The Cutter Brass Barometer
The Weems & Plath aneroid barometer from the Cutter Collection is an example of a medium capability barometer, ideally suited to most home situations, provided your home is located below an elevation of 3500 feet, or 1065 meters. It is fully adjustable to a sea level equivalent pressure up to that altitude, but is not temperature compensated. The movement is concealed behind the dial.
The dial shows a full circle scale from 27.5 to 31.5 inches of mercury, and is also graduated in millibars. The dial is 3.125 inches in diameter, or 7.9 cm, and is easy to read. A needle rotates along the dial with changing air pressure, and a moveable pointer allows comparison of pressures over time
The case is made of polished forged brass and resembles a porthole in a boat, with a hinged bezel case. Overall the base diameter is 4.625 inches (11.75cm), and the case is 1.375" or 3.5 cm thick. The barometer weighs a pleasing 1 lb 10 oz or almost 740 grams.
The recommended price is US$216.00, but last time I looked Boater's World was selling it for $149.99. A matching clock is also available.
The Martinique Family Of Barometers
The Martinique range from Weems & Plath is much larger, with three barometers and numerous clocks. These brass cased instruments can be wall or stand alone mounted, and paired with a clock in a single mount or as bookends.
The standard Barometer (190700) is designed for accuracy, with temperature compensation and a slightly larger dial (4" or 10cm) than the Cutter barometer. At slightly greater cost, it can be calibrated for elevations from 3500 to 7000 feet (1067-2133m), with the standard model designed for elevations from sea level to 3500'.
The design is a bit more conservative than the Cutter barometer, but still includes a hinged bezel case of solid forged brass with a lacquer finish. As with almost all Weems & Plath instruments, there is a limited lifetime warranty on the movement - so while it is in your ownership and you retain the receipt you are covered.
The large dial is served by a needle which will show pressures over a 4 inch range from 27.5 to 31.5 inches of mercury, and also shows pressures in millibars. A pointer allows comparisons of pressure movements over time.
Overall the case is 5½ inches in diameter and is 2¾ inches thick. That's quite a lot of brass, and the whole instrument weighs 3 lb 3 oz. (14 x 7 cm, almost 1.5 kg). So dropping it on your toe would do more than void the warranty.
In comparison to the Cutter barometer, the Martinique offers greater accuracy through temperature compensation, and is suitable for higher elevations. None of the other differences affect its usefulness and suitability as a weather instrument.
Its recommended retail price is US$310.00, but is about $75.00 less at Boater's World.
The Martinique range includes two other barometers.
The High Senstitivity Barometer (191800) uses the same case to house a more accurate double capsule movement for more precise pressure readings. It is calibrated from sea level to 1500 feet (457m), and has an expanded scale to enable more precise readings. This scale only covers two inches of mercury, from 28.5 to 30.5"Hg
Although its price is only marginally higher, the standard model is more suitable for most needs.
Model 191700 combines a barometer with a thermometer in the same case. The dial is divided into two parts, with air pressure covering a 2.4"Hg range from 28.3 to 30.7", which is adequate for almost all weather conditions. The thermometer has a curved scale in the lower part of the dial, and has both °F and °C scales, with markings every 2° from 32° to 122°F. The recommended price is US$356.00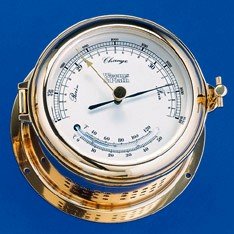 For more information on barometers, visit the pages on Buying a Barometer, the Aneroid Barometer, and Setting A Barometer. You'll find links there to other pages there which may interest you.
Back to the Top, or return to the Home page.
And finally, here is a page on How To Read A Barometer. It's not as easy as you might think to use a home barometer for weather forecasting.

But just before you move on...
You may be interested to know that you can find out more about weather and home weather stations by receiving our newsletter ,"Watching Weather". It's published more or less weekly, and apart from tips on how to use your weather station and understand what it's telling you about the weather around you, it also covers many other weather related topics.
If this sounds interesting, just add your name and email address to the form below. When you join, you'll also receive, totally free, a 20 page guide to setting up and trouble shooting problems in home weather stations.
And I promise that you won't get spammed, and that your sign up details will remain totally confidential.
Sign up now and receive your first issue almost immediately.
Buying Barometers On eBay
eBay is a good place to see lots of barometers in one place - new, used and antique. Even if you aren't in a buying mood, and list below shows you what's on sale at this very minute, eBay can be a great way to learn about specific items and barometers in general.


.
Last update 05/28/2011